I share what kind of equipment I take with me for my adventurous trip to Nepal, living a local life. A backpacker's gear differs from all other types of travelers.
Introduction
In May 2022, I went for three months to Nepal to learn the Nepali language, experience local life, and share my adventure online. I've made a few backpacking trips already, but this one is different. I use my black 24liter backpack from Deuters, where most of my equipment fits. Food I prefer to put in a small eco bag which I carry in addition to my gear.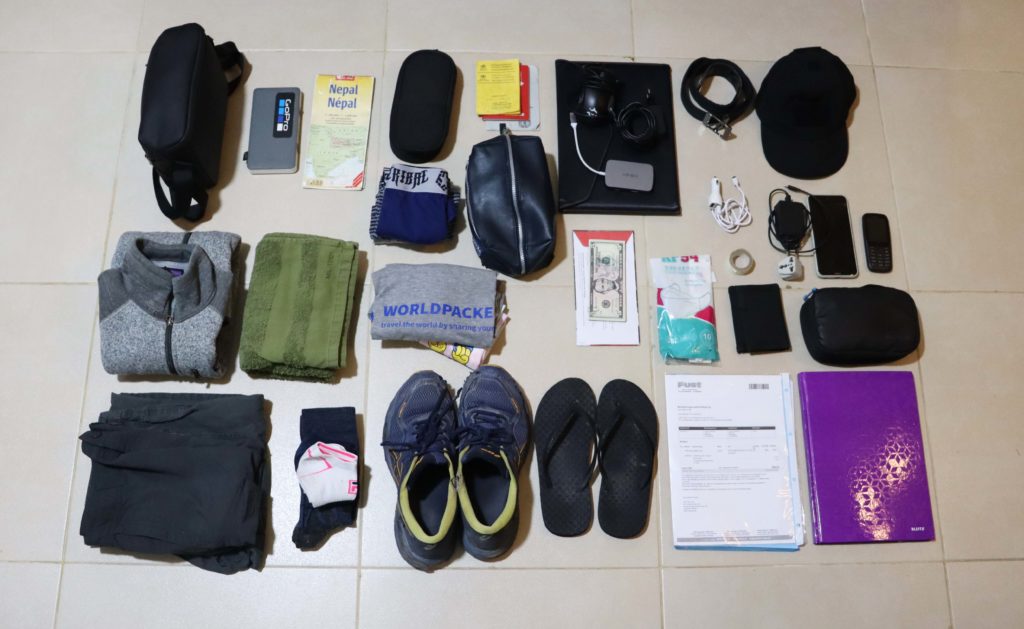 I can put the equipment shown in the picture into the backpack. The bag weighs 8kg.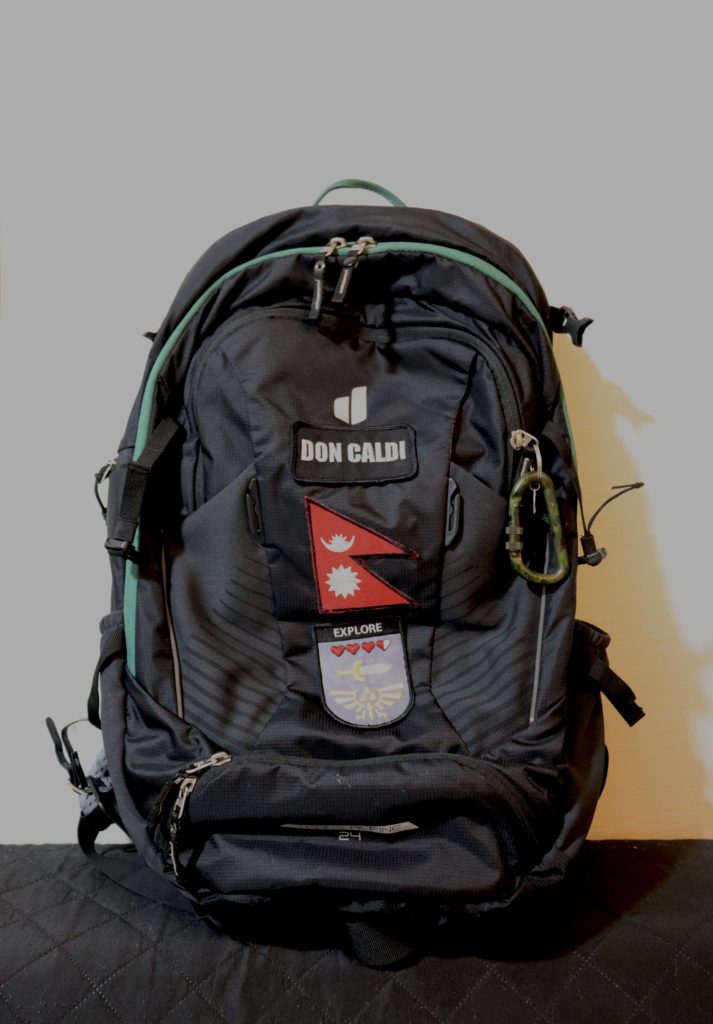 24-liter Deuters backpack
Rain cover
Carabiner
Sewing Kit
Badges
On my first backpack trip, which I had done years ago, I started with a 60l liters which was too heavy to travel. Today I am at 24l, which gives me the most flexibility to travel independently.
The backpack itself includes a rain cover at the bottom and I put a few carabiners on it where I can attach my slippers and a bag with dirty clothes.
I am a very passionate backpacker and I bring with me a sewing kit. This is necessary to stitch badges onto my backpack or repair clothes.
1 x long pants
4 x pair of socks
4 x underwear
3 x shirts
1 x sweater
1 x towel
2 x short pants
1 x cap
1 x belt
1 x slippers
1 x shoes
I wear one set of clothes and the rest: a towel, three pairs of socks and underwear, two shirts, and one pair of short and long pants I put in my backpack or a separate cloth bag. In addition, depending on the season, I take a warm jacket with me against the cold.
DJI Mavic Mini or DIJ Mavic Air 2 S
Powerbank 28'000Ah
Computer mouse
USB-C Hub
Travel Adapter
Various Charging Cables
Nokia X20
Nokia 220
Sony Earplugs
Laptop Acer Zenbook
GoPro Hero 8
San Disks
I carry a lot of hardware with me to share my journey online. It takes up most of my backpack's space and therefore it has to be compact and qualitative.
I chose a laptop from Acer for numerous reasons. First, its weight is only 1kg! Second, it is easy to get additional cables anywhere cheap. Third, I broke my screen once in South Africa, and it was simple to get the exact model. Fourth, it comes with Windows, and many communities I work with are familiar with it or use a free Linux version.
For Vlogging and Photography, I use a GoPro Hero8, a DJI Drone, and my smartphone Nokia X20. Make sure your phone is unlocked to use any SIM card.
Depending on your travel destination, bring a travel adapter.
Sales Receipts of devices
US Dollars
Passport
Vaccination Card
International Driving License
Insurance which includes COVID-19
Health Declaration
Booking of Accommodation
Waterproof Paper Map
In 2022 you have to take a lot of additional documents with you. This can change every month. Check all the travel guidelines from your airline or check the IATA Covid-19 Regulation Map , where they collect all data and update it regularly. Do not forget about the Visa itself if you need one. Try to fill out the forms online so that the procedure is hassle-free when you arrive.
Contact Lenses
Cleaning Solutions
Toothbrush
Toothpaste
Nail clipper
Medicine (Dafalgan)
Shaving bag
Soap
cloth / tissue
First Aid Kit
The Toiletry bag varies the most between all travelers. However, if you forget it entirely at home, you can get almost everything at your travel destination.
Tape
string
Swiss knife
Writing materials
Notebook
Foldable umbrella
The most helpful travel tools are still the basic ones. String and a knife are my favorites to travel like a backpacker. They are so simple and they make the difference in many cases. I used it to play volleyball with locals, hang my wet clothes to dry or use it as a part of setting up a shelter.
Many travelers use a rain suit when it's raining. A foldable umbrella is enough. In African and Asian regions, Rain comes in short bursts, and when they happen, do what the locals do.
If you enjoy what I am doing, support my platform and enjoy exclusive content.