Bea and I did two half-day hikes in the Shivapuri Nagarjun National Park. We relaxed at the Bishundwar waterfall and a Buddhist temple where we enjoyed breathtaking flora and fauna.
Our Nepali friend (Barsha) advised us to do day hikes in "Shivapuri National Park." It is about 12km from the center of Kathmandu. The park is vast, and there are many hiking routes up to eight hours. There is also information about birds, bears, and more animals you might spot in the forest. Bea & I decided to go there on 17.05.23 to hike for a few hours and our test backpacks. The day before, we packed our things in the evening. Early in the morning, we got up at 06:00 AM. We drank a Nepali tea and left our hotel near Thamel at 07:00 AM.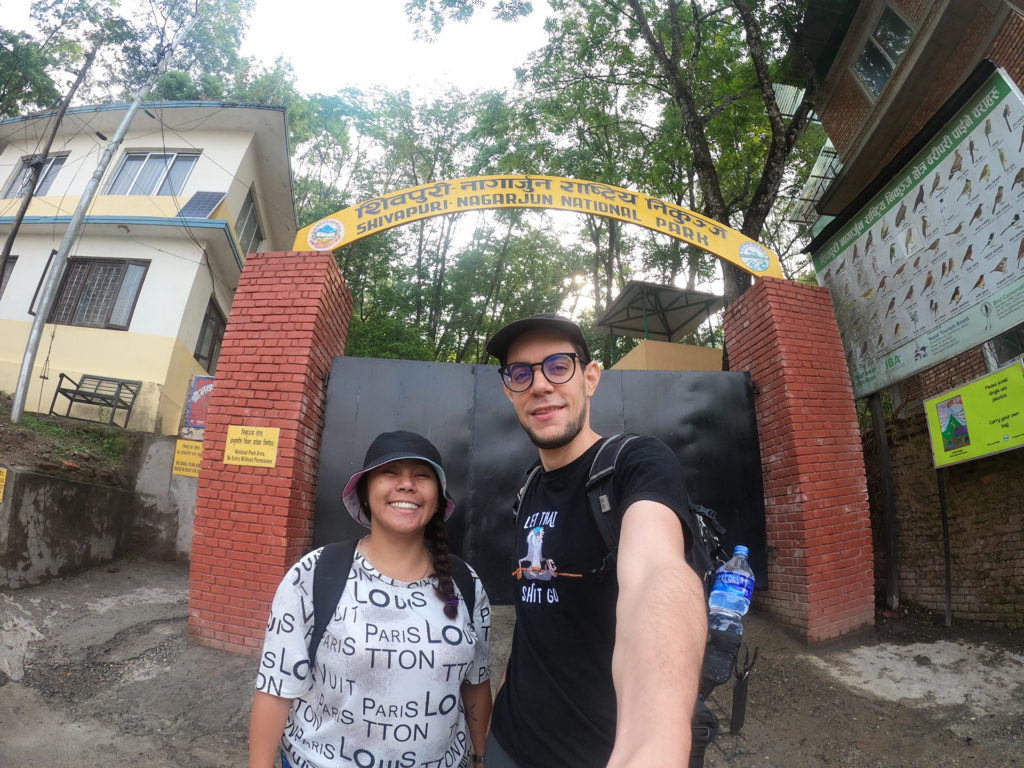 The easiest and best way for tourists is to take a cab or motorbike. There is no traffic at 07:00 AM, and it takes only about 25 minutes to reach the entrance gate to the park. The app Pathao helps you to estimate the fare for any ride by car or motorbike. The price is fair and a good reference.
The 2nd much cheaper option is taking different buses, which takes much more time. Your final bus stop should be in Budhanikantha. When you arrive, walking to the gate takes you another 20 minutes.
You must buy all the food & drinks a day before or on the way. There is no restaurant or small shops. There are a few waterfalls where you can refill the bottles. Bring a filter or water purification tabs to clean the water if you have a sensitive stomach.
We did this hike in May. This is the last month before it starts to rain a lot. Bring a waterproof jacket and shoes or wear slippers. Sometimes you have to walk across small streams. Make sure you have Nepali rupees with you to pay the entrance fee. It is also possible to take a guide, but we declined it.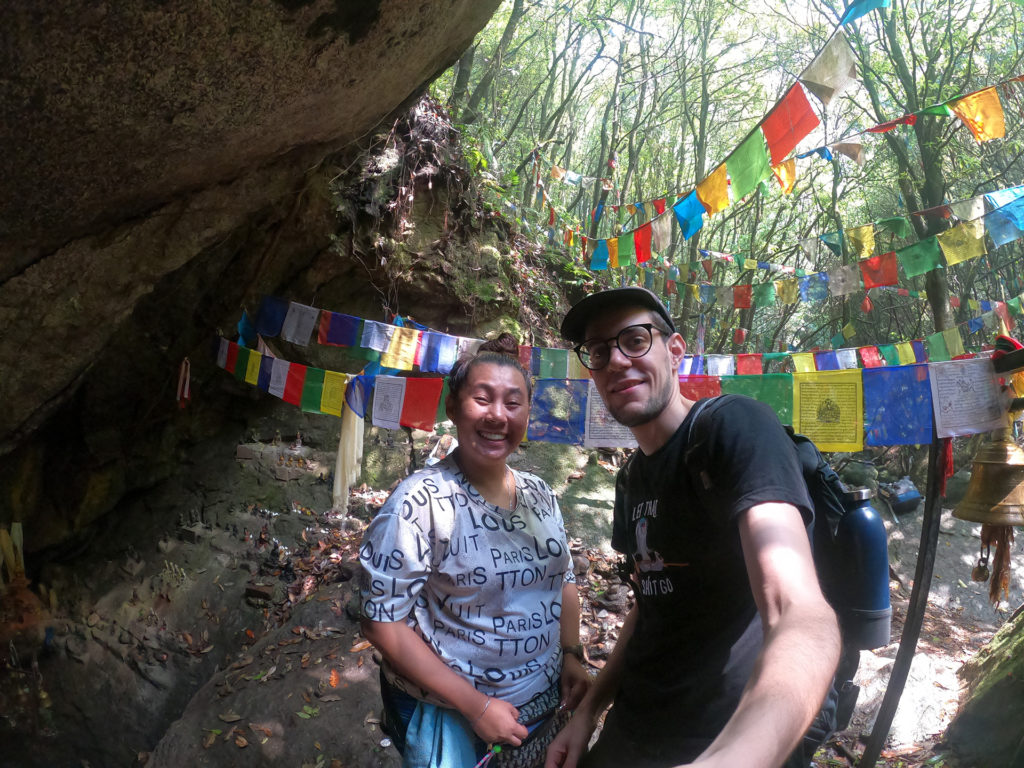 Bishnudwar Waterfall & Cave
At the entrance, a few routes are mentioned, which you can choose from to hike to temples and waterfalls. Bea & I decided to go to Bishnudwar. We arrived at the gate at 07:30 AM and started to walk at 07:45 AM. For one hour, the road was wide and also accessible by car. At 09:00 AM, we arrived at an intersection. There we took the steep path up to the waterfall. We got lost for a while and took the wrong route! We decided to hike up to the cave and waterfall, not deeper into the jungle. Around 10:00 AM, we arrived and crossed a small waterfall and rivers. (Click Button for Location)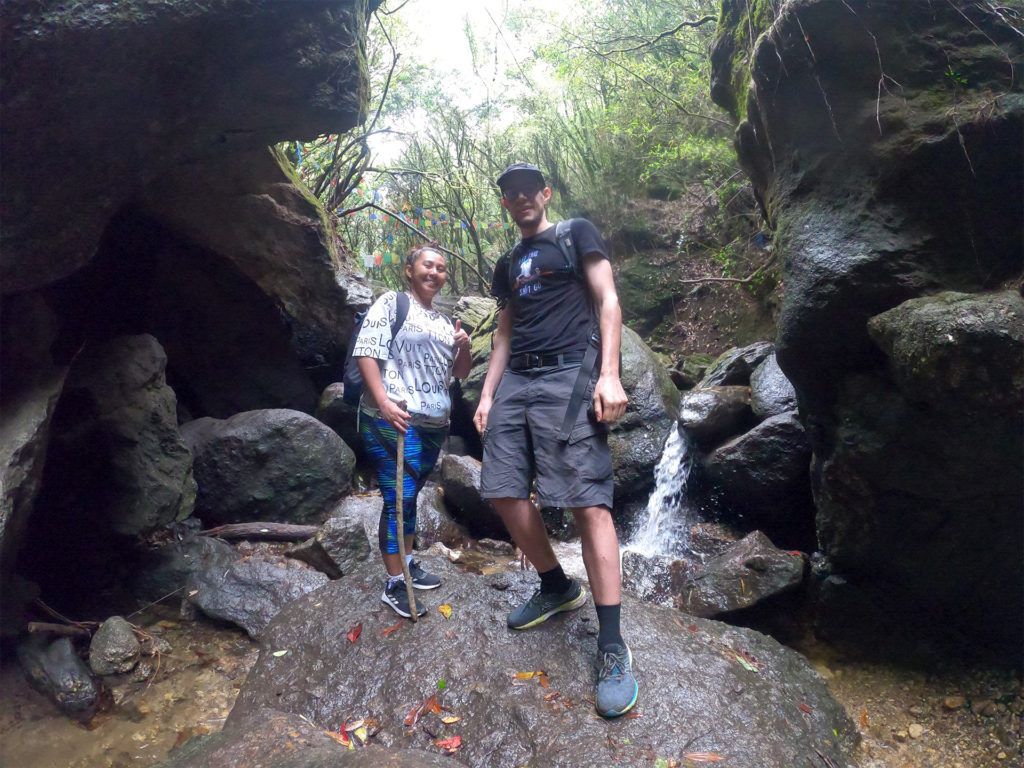 On our second day, we took a different route to Nagi Gumba. We walked for about sixty minutes and for the last part we had to climb upstairs. At the place, there is a Buddhist temple and a small shop to buy food and cook food for you for a small fee. There are lots of monks and you have a nice view over Kathmandu city. (Click button for Location)
Overview of expenses in US Dollars
Entry Fee to Shivapuri National Park for 1 PAX (foreigner):

7.50

Cab from Kathmandu city to the National Park

6.80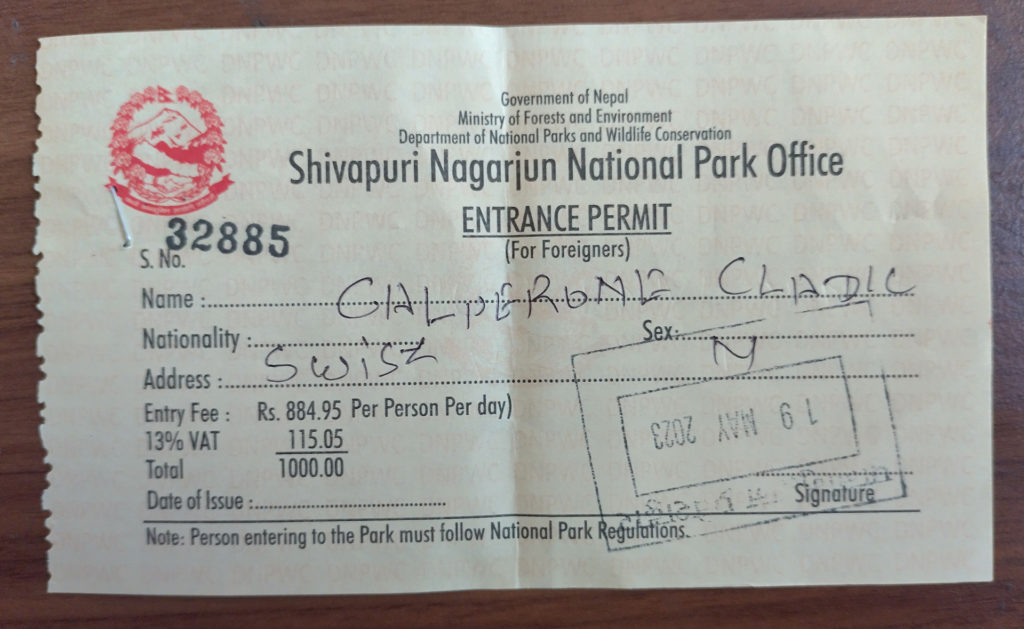 It is an excellent hike before you leave Kathmandu for your big adventure in Annapurna or any other region. Mainly if you are not used to hiking a lot. It helps you to set up your equipment correctly. We liked all the sounds of birds and felt amazed by nature. There are many more routes you can discover!
If you enjoy what I am doing, support my platform and enjoy exclusive content.