Once a year, I attend a GOA festival with family and friends in the Swiss Mountains. The story I share was the one party that turned into an odd adventure.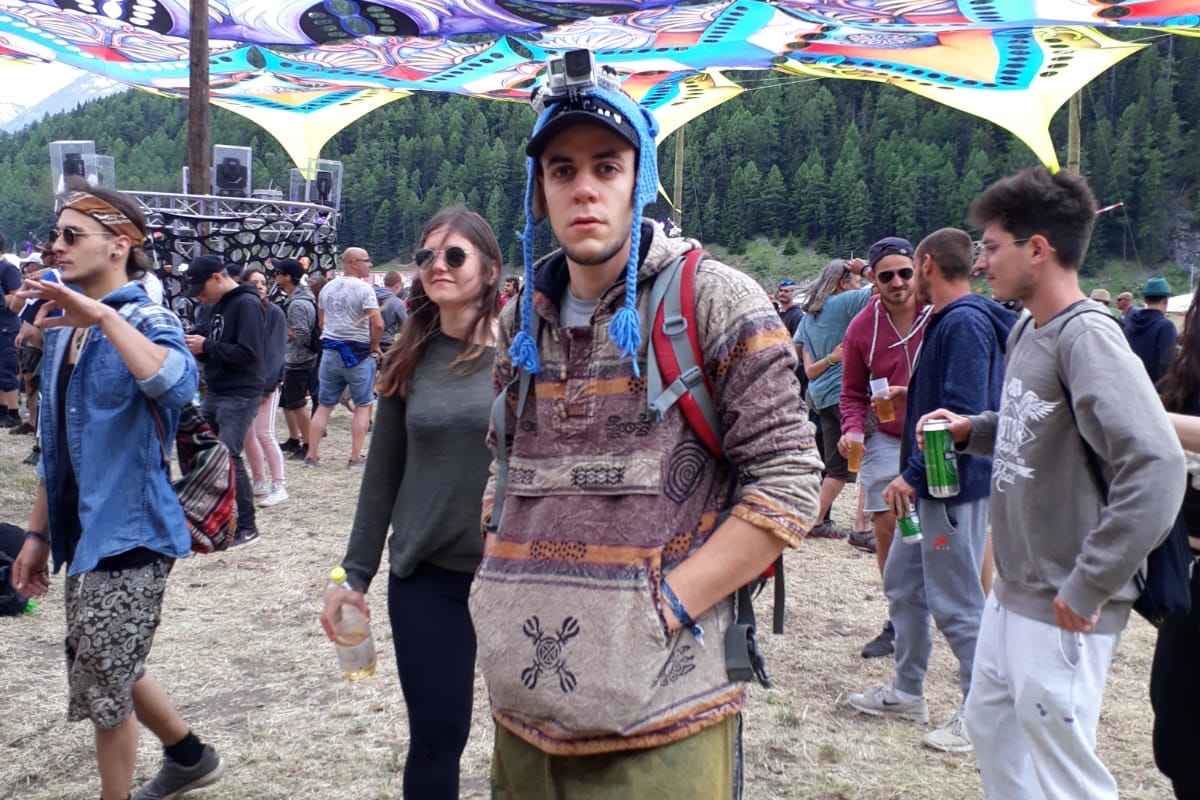 DAY 1
It was Friday morning, and I was ready for the weekend. I could follow the German lesson until 10:00 AM, but I was mentally absent for Mathematics. Brian, a friend of the same class, will also show up in the evening at the party. My three cousins, two friends and I were going to depart in the afternoon to the festival. I packed my backpack the day before and took a bus to the railway station at noon. I bought a train ticket to my oldest cousin where we decided to meet and depart at 02:00 PM. We put all our luggage in two cars. Our destination was an Outdoor Festival on hilly terrain far from inhabited villages.
When we arrived, we had to park our cars, and a shuttle bus was waiting there to bring us closer to the festival site. We could spot the entire stage at the slope through the bus's windows. Eventually, the last five hundred meters to the location, everybody had to carry his luggage. We pitched the tent quickly. It contains three bedchambers and an area in the middle where the other three of us could sleep. By now, it was evening, and we walked to the stage, which was located less than two minutes from our tent. Since we arrived, the music had been playing, and we felt in party mode.
Before we hit the dancefloor, we should eat a high-calorie meal. We sat down at a table and ordered sausages with bread. For alcoholic beverages, we must buy checks with a value of twenty francs. Each liquid is five francs and gets canceled by a stamp. For me, it was too early for alcohol. I decided to drink a water bottle to prevent a severe hangover the day after. It was more comfortable like that to stay up all night celebrating! I also discovered a fruit vendor and ate a few slices of pineapple. It was getting dark and cloudy. Probably there will be rain during the night. I went shortly to the tent to change my clothes. Barefoot and with long trousers, I walked back to the dancefloor. The first night I was almost sober the whole night.
One DJ was a particular highlight as I remember he had his performance around 02:00 AM. An electric guitar accompanied his psychedelic music. He is an insider tip in the scene. His name is Klangstrahler. At 03:00 AM, the first anticipated rain and a short power failure interrupted the festival. I used this small break and met my friend Brian close to a shelter. We exchanged a few words until we went back. Unfortunately, the organizer did not have emergency measures. Therefore the dancefloor became very squishy and wet. Despite it, we had a lot of fun, and I danced until early in the morning.
DAY 2
At 06:00 AM, it was time for me to go sleeping. Brian, my schoolmate I eventually met, was still on the dancefloor, the clothes full of mud and a bit dazed. He wanted me to party throughout the day, but I needed a time-out. So until lunch, I could sleep a bit. After that, I took a book out of my bag, which I had to read. In the next ten days, there were oral exams at the college. Most of it I already prepared except the English exams. So I could read a few chapters and take notes with a bit of effort. Also, tonight I ate a lot of food before going to the dancefloor. But tonight, everything would be different.
For the full story (2'700 words) click the button to visit my Patreon, Thanks for your support!