In May 2022, I visit Bhaktapur to volunteer at Samta School, lead by principal Ms. Shova Tamang. I taught English, experienced village life and expanded their profile with a website.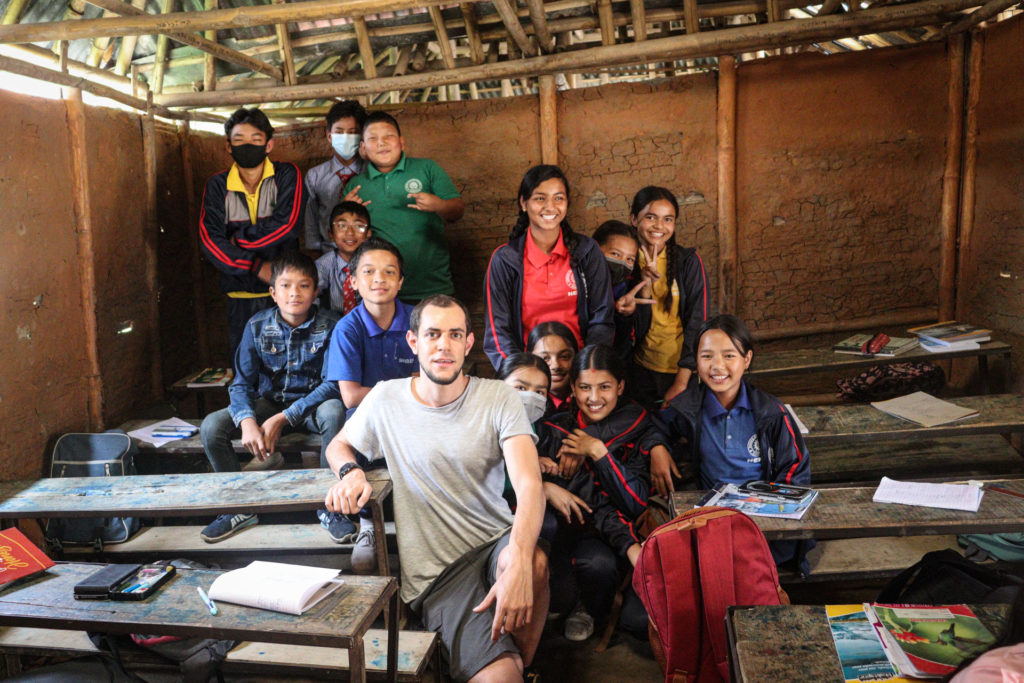 In the second week of May 2022, I took a flight from Switzerland to Nepal to go back to volunteering with Worldpackers, recording Youtube videos and creating my professional travel blog. If you are curious about what equipment I took with me for this trip, click this link to the article in the travel tips section.
When I arrived in Kathmandu, I stayed a few days in Thamel and booked a hostel to get things going. Then, I bought a SIM Card from the network carrier N-Cell and a data package of 50GB for 90 days. I also had to adjust to Nepali foods and the different weather. The rain season is around the corner, which means it rains one time each day for about thirty minutes. The weather is hot but it cools down to about 18°C during the night. Once everything was settled, I took a taxi to Bhaktapur, where Samta school is located.
Location of the school on Google Maps.
You might install the app Taximandu on your smartphone. It calculates the cab fee in Nepalese Rupee to your desired location.
Daily routine:
Each morning I got up at 05:45 AM and took a bath. Then, between 06:30 AM and 07:00 AM, I went to the kitchen for tea and biscuits. The staff members and children who live at the school will do so also. After that, I went back to my room, took my laptop and camera gear and went to the office or sat on a bench to work on the computer, edit pictures and upload content to their website .
There are many children around who are working on their homework before school starts. Some of them arrived early in the morning and go to their classroom to do it there. At 09:00 AM, I went back to the kitchen to eat the actual breakfast/lunch, Nepali Dal Bhat (नेपाली दाल भात), lentils with rice. At 09:40 AM, all children were in the school area. After that, the health teacher did a fitness session with all the kids until 10:00 AM. They sang, stretched, and each class was lined up.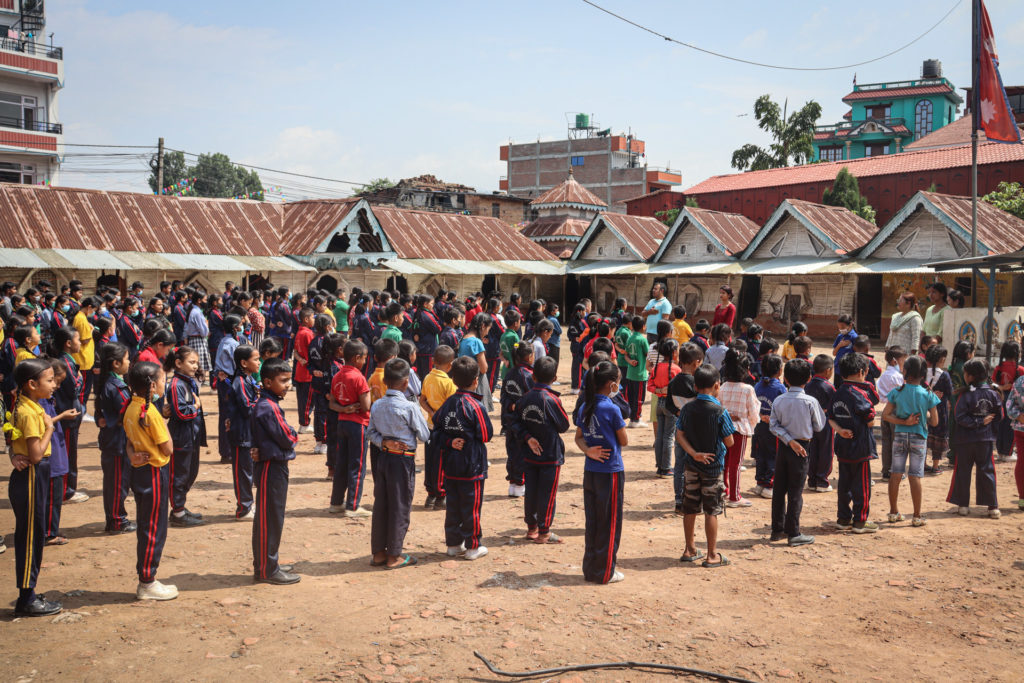 Until 12:40 PM, I had classes. Usually from grade six up to grade nine. I focused on sessions to improve the children's English talking skills. Topics were: elaborate mind maps, advanced writing, tenses and work in groups.
In the kitchen, the women had already prepared food for the teachers and me. Noodle Soup or rice pudding was on the menu.
At 01:00 PM, the children were back in their classrooms. I used the time to teach another session, correct their writings or work on the school's social media. At 03:40 PM, all students gather at the schoolyard and line up as in the morning. After another, one school class leaves the school ground—the health teacher coordinates everything.
For the rest of the day, volunteers can visit the temples in Bhaktapur Square or do any activity with the children. Then, around 08:00 PM, they serve dinner with rice and vegetables.
Weekend:
On Saturday, no children attend school. So I went with the host to their home village and stayed there a few nights to explore the surroundings. By car, it is just a twenty minutes drive to go there. The scenery is breathtaking and it is excellent for morning hikes.
Overview of volunteering expenses from 09th until 21th May:
The host provides a private room at the school ground. There is a fan, two beds, mosquito nets, power sockets, a TV and a stable and fast high-speed Wi-Fi (~80Mb/s). The ideal space to go when you arrive on the first day in Nepal. If you have laundry, one of the women can do it for a small tip. I got two keys, one for my bedroom and one for the bathroom. There is no hot water but the tanks' water is not ice-cold. All the food is provided by the women working full-time at the school. The meals are rich in carbs you won't feel hungry.
Everything was also provided when we went to the village to live at the principal's home. Therefore, I suggest taking a few thousand Nepali rupees with you, which you can use for activities in the village or going to the Bhaktapur Square (1'500Rs entry fee, only paid once) and personal expenses.
I lived this experience as a family member from the first day on.
Sign Up on Worldpackers to travel the world and
have life-changing experiences.
Use my PROMO CODE for a discount (DONCALDIWP)